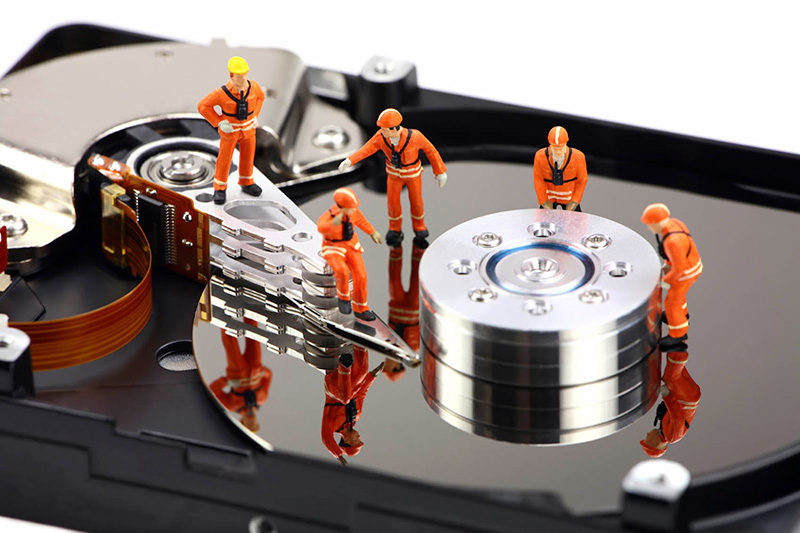 Risks to your business's data are everywhere. With hackers, viruses and malware running rampant, the rising number of cyberattacks, many businesses are utilizing hard drive recovery services. Hard drive nightmares, like lost email conversations and exposed financial data, can, at a minimum, significantly disrupt business operations or, worse, jeopardize your business.   
What Is Data Recovery?
Regardless of how the data is stored, it's only a matter of time until you experience a data failure. You need to be prepared with an effective data recovery plan and the ability to recover from a data emergency.  
There's still hope, though, because data recovery is like magic that can make a once-dead drive hum with data smoothly flowing off the disc. This allows the valuable data it holds to be extracted, potentially saving your company's digital bacon.  
There are three lines of data defense to consider when you experience a drive emergency:  
The first – and easiest – is off-the-shelf recovery software. These apps work exclusively with software or logical failures of the drive and are worth a try. Both Windows and macOS include recovery software, but there are commercial versions that are more thorough. After plugging the errant drive into a computer, the app scans the disc's surface, sniffing out data anomalies. After scanning every millimeter of the disc, the software can rebuild broken links, reconnect data to its file allocation table entry, fix data that's been scattered across the drive and often recover deleted files.
The second line of defense is to consult a data recovery service. The best data recovery firms use industrial-strength software that delves much deeper into the disk's files and structure and can make more complicated changes. In other words, it takes a deeper dive into the data and extracts all it can. If you're lucky, this is all it takes to get the data back as if nothing ever happened.
If there's hardware damage, the drive should only be opened in a cleanroom so that technicians can diagnose the drive's problem. A single speck of dust in the wrong place destroys a drive and the data it holds. Most data recovery cleanrooms are certified to be Class 10 or 100, which translates to having less than 10 or 100 particles, respectively, that measure 0.5 microns or larger, per cubic foot of air. By contrast, the air around us typically has millions of such particles. 
 After fixing the issue, technicians extract as much of your data as is possible and transfer it to a fresh drive, which they return along with the original drive. Some recovery companies securely dispose of the original drive if you want.
How Data Recovery Works
The first step in recovering data from a dead or damaged drive is to contact a data recovery firm. Better yet, do your research upfront and pick a preferred vendor before you need one. Being proactive means that the data recovery company is standing by waiting for your misbehaving drive.  
A word of warning when choosing a data recovery service: Hundreds of small services promise data recovery onsite that are nothing more than intake centers for larger recovery firms. A good indication of their abilities is if they have a cleanroom onsite for repairs, stock the parts needed to fix a variety of drives quickly, adhere to strict security protocols, and if they can recover data from all sorts of digital storage devices – computer hard drives, RAID arrays, file server drives, even tablets, cameras, flash drives, and SD cards. In other words, look for a comprehensive approach to recovering from a wide variety of storage failures. [Want to learn more about RAID recovery services and hardware? Check out our reviews.]  
On top of liberating data on locked drives and recovering passwords, many data recovery specialists work with encrypted drives and can recover lost items from VMware storage failures that use protocols like Hyper-V and Oracle databases. An increasing number of data recovery operations focus on cleaning up malware-infected drives and extracting the business data they hold. In other words, if your company is hit by a ransomware virus, data recovery may be your best bet.
How to Diagnose If You Need a Hard Drive Recovery Service
A quick evaluation on the phone or through a web form generally gets the data recovery process started. This is to determine what the drive's symptoms are, how long it will take to do the repair and the potential costs. It's a good idea to have the drive handy to provide the model and serial numbers.  
Be ready to describe the drive's behavior, such as a drive that doesn't show up as a letter, operates slowly, disconnects or hangs on reading data. There can also be scraping, buzzing or grinding noises that indicate specific problems inside or that the drive's discs aren't spinning. 
Most importantly, check for odd smells or burn marks on the drive's case. If any of these symptoms show up, stop using the drive to avoid inflicting further data damage. 
Above all, look for a data recovery firm that is authorized by the major hard drive makers to do the needed repairs. Each drive is different and often uses proprietary technology that varies from manufacturer to manufacturer. It's best to have someone experienced in its operation and repairs. 
You might get lucky, and the repair operation might be covered by the device's warranty. If this is not the case, ask what the charges will be upfront.
What to Expect in 2020
While some hard drive recovery services have already started investing in artificial intelligence (AI) and machine learning (ML), we expect more companies to join them in the year ahead. 
Many hard drive recovery services use AI and ML, impacting storage devices such as SSDs and flash controllers. AI and ML help recover data with processes such as sorting, carving and XOR scrambler analysis.  
The use of AI and ML within the storage industry can increase data security, lower costs through hybrid storage clouds and provide more software-defined storage. With features such as automatic backups, updates and malware scans, AI and ML are influencing hard drive recovery trends and enhancing reliability.  
To support these AI and ML capabilities, hard drive recovery services must be able to work well with parallel file systems and flash-native tools, including NAND flash memory chips. Additionally, we can expect the rise of neural storage in 2020. This type of storage uses AI to resolve issues without the need for human interference